We're the
bridge to a bright new opportunity.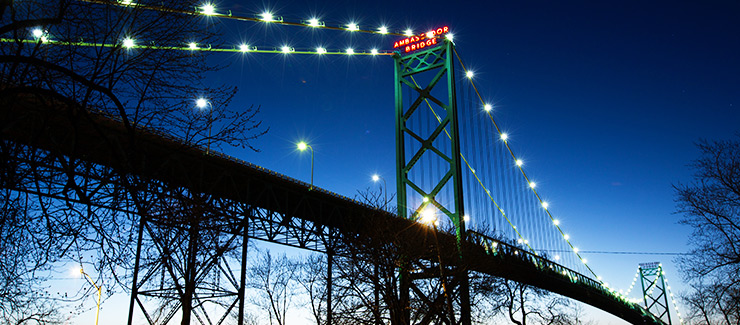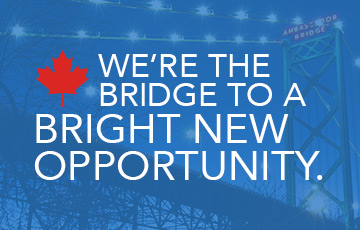 Are you ready to cross the bridge to the U.S. and discover exciting new career potential with Michigan's largest health system? Beaumont Health has had tremendous success adding Canadian citizens to our staff—and we're expanding our program even further. Whether you are looking for that elusive full-time job or want to supplement your income in a part-time role, we offer excellent opportunities in a number of areas, including:
Nursing
Occupational/Physical Therapy
Pharmacy
Medical Technologist
Why join Beaumont Health in the U.S.?
With eight hospitals and over 150 outpatient locations, we have plenty of options to consider.
We have more nationally ranked hospitals than any other health system in Michigan.
We'll work with you every step of the way to help you obtain your TN Visa and any other credentials needed to work in the U.S.
We offer flexible schedules to accommodate your situation and needs.
Healthcare professionals love our electronic medical records (Epic).
RNs appreciate the additional support from our Nursing Assistants.
SEARCH JOBS
Resources for U.S. work eligibility
Steps to apply for a TN Visa
• Registered Nurses: Apply for Michigan RN license.
• Obtain VisaScreen certification.
You can obtain your VisaScreen certification by visiting the CGFNS site or calling them at 215.349.8767. Once you have obtained your credentials, please inform your Beaumont recruiter who will provide a TN Visa Letter of Support.
• Make your TN Visa request.
Schedule an appointment with U.S. Customs and Border Protection at the Port of Entry to the U.S.:
U.S. Customs and Border Protection
Ambassador Bridge Port of Entry
3031 Porter St.
Detroit, MI 48216
What to bring to this appointment:
TN Visa RN letter of support (provided by Beaumont)
Canadian nursing license
Michigan nursing license
Birth certificate or passport
Visa Screen certificate
Driver's license
Diploma
• Apply for a U.S. social security number.
You can apply for a social security number at a number of Social Security Administration locations near Beaumont facilities. Find more information on the ssa.gov site.
Locations near a Beaumont facility:
Dearborn Social Security
19853 Outer Drive, Suite 200
Dearborn, MI 48124
(877) 624-8315
Farmington Hills Social Security
27650 Farmington Road
Farmington Hills, MI 48334
(866) 964-7256
Grosse Pointe Social Security
19503 E. Eight Mile Road
Saint Clair Shores, MI 48080
(877) 405-7890
Royal Oak Social Security
140 North Crooks
Clawson, MI 48017
(888) 577-1499
Taylor Social Security
19853 Outer Drive, Suite 200
Dearborn, MI 48124
(877) 624-8315
Trenton Social Security
3450 Biddle Avenue
Wyandotte, MI 48192
(866) 394-2039
Troy Social Security
1280 Pontiac Road
Pontiac, MI 48340
(866) 319-3461
Wayne Social Security
28657 Cherry Hill Road
Inkster, MI 48141
(866) 931-0159
You can identify our servicing field offices through the Social Security Office Locator.
Beaumont allows Canadian nurses to begin employment without a social security number. We strongly encourage you to make an appointment as soon as possible. Due to Covid, appointment times are delayed. Quarantine is no longer a requirement in the state of Michigan for SSN appointments.
FAQ
Does Beaumont reimburse for initial Visa screening cost?
Yes. After you are employed by us, you can work with your leader to submit for reimbursement.
Does Beaumont reimburse for reissue?
Yes. Work with your leader to submit for reimbursement.
Is Basic Life Certification required at Beaumont?
Yes, Beaumont policy supports BLS from one of the following organizations:
American Red Cross
American Heart Association
Canadian Heart & Stroke
Does Beaumont sponsor Green cards?
Yes – Beaumont elects to sponsor permanent resident (green cards) applications in a variety of circumstances. The most common sponsorships are for employed nurses and physical therapists. Other sponsorship opportunities may also be available.
Will Beaumont pay the fees for a Green card?
Yes – for eligible nurses and physical therapists, if Beaumont elects to sponsor a permanent resident (green card) application, Beaumont will pay the attorney fees, filing and processing fees for that sponsorship in return for an employment commitment.
*Note: Beaumont is not legally obligated to provide employer sponsorship to any individual. If we do engage in employer sponsorship, we will do so in compliance with all immigration related U.S. laws and regulations.
For additional information on Beaumont Health's Canadian hiring initiative, please contact canadianrecruitment@beaumont.org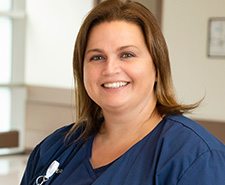 "I've worked at Beaumont for 17 years and it's a very welcoming place with many opportunities to grow. In addition to having physicians and residents in house and available around the clock, I appreciate the updated technology, computer charting and free on-site parking in a safe area. The flexibility and available shifts are fantastic so you can find what works best for you and your family. I feel very comfortable in my nursing role and am grateful for the support I get from my peers."
Sarah, Clinical Nurse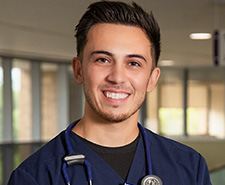 "I am proud to work at a nationally recognized hospital and be a part of a community that is known for its excellent patient care. The high standard of care, resources and teamwork allow me to thrive and provide the best patient and family-centered care. Beaumont has allowed me to grow on both an individual and professional level by providing the resources needed to advance my career and reach professional goals. My commute to work is seamless and I would not want to work anywhere else!"
Bogdan, Clinical Nurse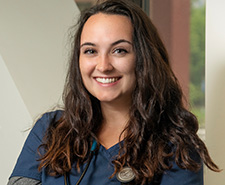 "At first, the idea of working in a new country made me anxious, but it was all worth it in the end. Beaumont has a wonderful team ready to help Canadians with every step of the process. The opportunities for growth at Beaumont are endless and the staff has been amazing at helping me with the transition. I am a new grad, and Beaumont has provided me with the tools and support I need for success in my nursing career. Don't be afraid to take the leap!"
Tiffany, Clinical Nurse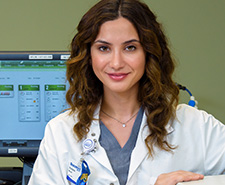 "As a newly graduated medical technologist, I wanted to find a workplace that provided an opportunity to broaden my horizons. Beaumont has given me the resources I need to gain experience and knowledge in my field. I love to cross over from Windsor everyday - Michigan is my home away from home and the transition of working in another country was nearly perfect."
Fatima, Medical Technologist